Host Your Next Event With Us
Wedding Ceremonies & Receptions
We know that weddings are normally the most important day of anyone's life. Let us help make it the most special and memorable day for you. We offer daytime wedding ceremony packages and night reception packages to suit your needs.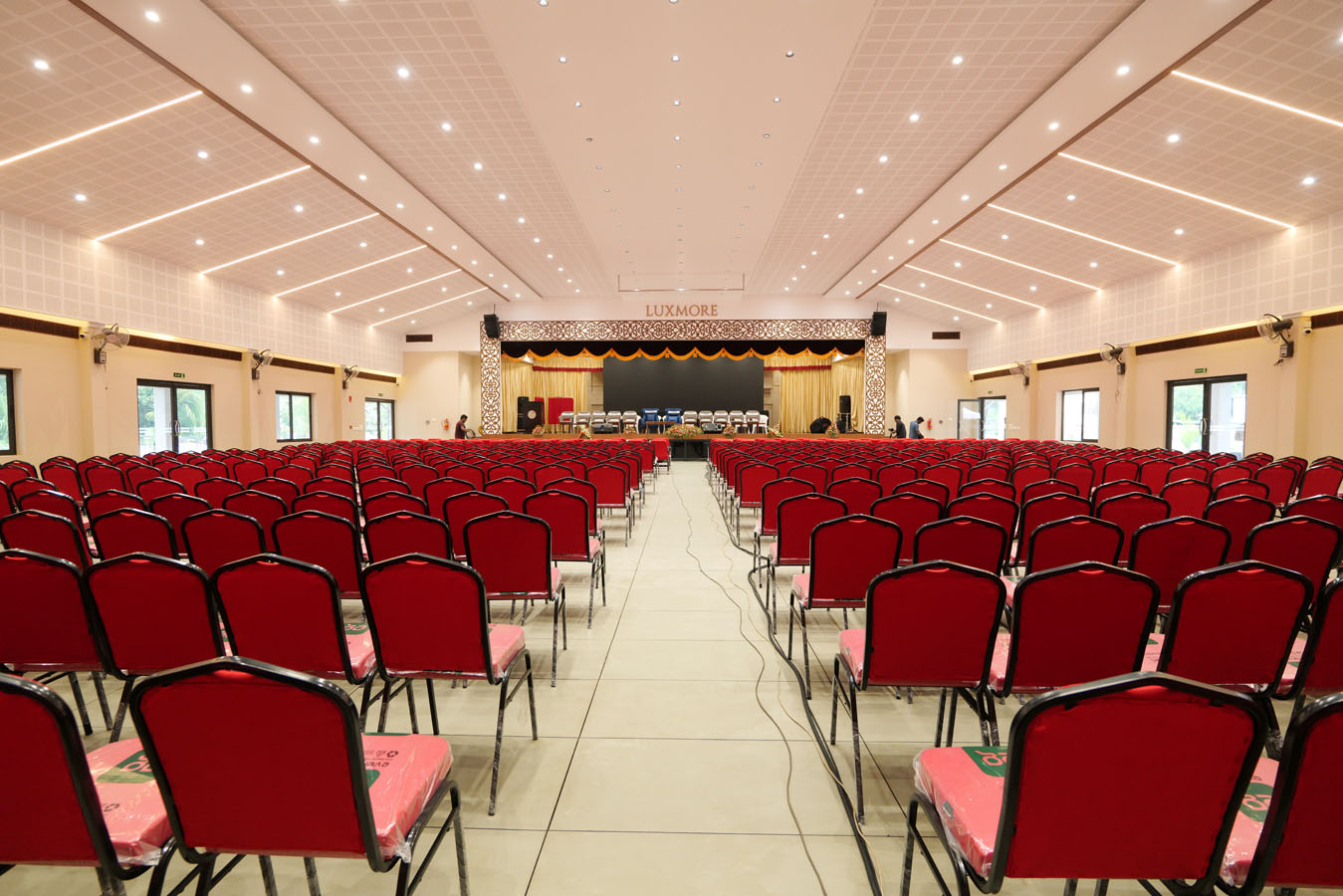 Corporate Events
Serve your corporate guests with the most luxurious hospitality and services. Our convention centre is suited to host both formal and informal corporate events, be it your annual general meetings, trainings, team workshops, sales meets, or award ceremonies.
Private Parties
Luxmore is the perfect venue to host any kind of social events or parties. What are you waiting for? Book us for your next themed party, anniversary or residents association program.
Exhibitions
Well suited to host exhibitions and other trade & commerce related events. Come, host an exhibition, set up your stalls, and showcase your products and services.
Conferences
Hold conferences for over 1000 delegates. Whether it is a plenary session, a medical convention, a seminar, a workshop, or a party congress, host your delegates at our state of the art convention facility.
Cultural Programs
Our main auditorium is apt for all types of cultural programs. Our spacious extra wide stage with built-in provisions for affixing stage lighting fixtures, moving heads and ellipsoidal spotlights provides you the grandeur you desire. Let our modern audio systems and top quality wooden stage flooring add the extra rhythmic boost to your dance performances.
School / College Programs
Looking for a venue for an upcoming program of your school or college? You've come to the right place. Luxmore would be glad to host your annual day celebrations, school/college fests, inter-school/college competitions, convocations and so on.
Product Launches
Launching a new product requires the perfect setting to highlight your product and showcase its features. We believe in giving the best service and opportunity to meet your needs. Contact us and let us serve you.
Family Get -Togethers
Spend a day with your close relatives and extended family, engrossed in games, competitions, stage events, chatters, chit-chats, babbles, laughs, and lots & lots of fun.
Dance/Music Competitions
Have you seen our main auditorium stage? It is wide, it is huge, it is well-lit; and it is perfect for conducting your dance competitions, music/song competitions, or other different types of stage competitions.
Fashion Shows / Fests
Wish to showcase your latest design-wear dress collections to your fashion industry peers or the public at large? Want to conduct fashion parades or competitions? Look no further: Luxmore has already hosted fashion fests with aplomb.
Outdoor Events
Bored of all the indoor events, halls & walls? No worries!!! We have the perfect outdoor function area to host your events: be it a party, a get-together, a meeting, a luncheon, or even a stage program.